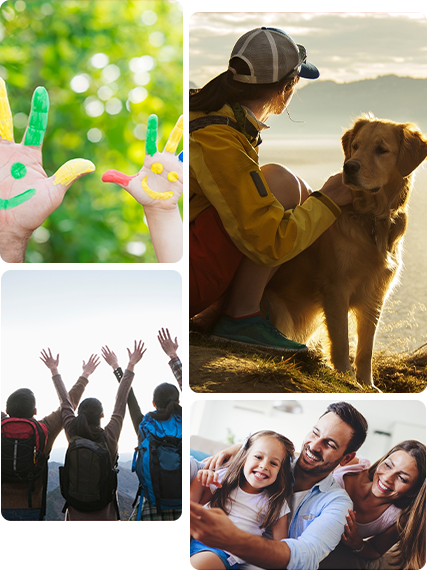 "And then the time came, when the the risk to remain tight in a bud was more painful than the risk it took to Blossom. -by Anais Nin".
Our Philosophy
How many times have you felt frustrated that you are not living your life in all its fullness? How many times have you thought you could do MORE with your life, "if only" …? We are here to tell you that you can most definitely do so. You can have the self-fulfilling lifestyle you want. Whether it is your social life or your professional life, we are here to facilitate and give wings to your dreams. Not just that, we are here to be the WIND beneath your wings. All you have to do, is BELIEVE that being differently abled -or living with someone who is differently abled- is just a fact, a situation, that does NOT limit your capacity to dream or have aspirations. As for achieving those dreams…. Go on… SOAR……REACH FOR THE STARS!!
About the founder
Renuka Tandon, the founder of Thrills n Trails stays with her family in India. Her younger child is non-verbal, on the Autism Spectrum, and has an unrelated genetic condition.
The Covid pandemic (and the resultant stay-at-home situation) in the past one and a half year has magnified a crucial problem….while most people who are stuck at home are able to fill their day with their work or hobbies, individuals with special needs, especially children, usually need to by guided through their activities – THROUGHOUT THE DAY!
More often than not, they lack the creativity and imagination to live their lives with meaning, purpose, and variety.
It is often left to the caretakers (usually, parents or siblings) to find out the ways and means of providing these people with a wholesome life experience.And while most of the time, they manage to do so, caring for special needs individuals day in and day out, can be an emotionally draining experience. Especially considering that they have their own lives to lead, jobs to do, and interests to pursue.
Furthermore, there aren't too many opportunities – whether online or offline – for special needs folks to socialize and mingle as neurotypical people do. They (and their families) tend to get left out at most mainstream public events like stage shows, movies, literature events, and so on.
Thus was born an idea to provide special needs individuals and their families with a space to unwind, relax, learn, grow or experience exciting and stimulating events….while bonding and creating enduring social networks with one another!
Renuka was born in Mumbai, India. While she is a post-graduate in STEM, she found her calling years later when she chase to study Human Rights. Her other interests include caring for Mother Earth, travelling, and writing.
Mission
Our mission is to provide you with fun-filled, exciting, and creative indoor and outdoor activities that are DEEPLY SATISFYING. To give you a sense of achievement and a burning desire to do more with life! To set you off on your journey of personal accomplishment!!!
Vision
Our vision is to raise the happiness quotient of special families, while creating strong social bonds and a lifetime of sweet memories.